Okay, now for another in this series of my "weapons set reviews"
!
This time another ICM release "WW1 German Weapons Set".
If you've read my review of the WW2 German weapons set by ICM you might remember that in spite of superior sculpting (really the best sculpted set of this kind I've encountered so far in plastic) it's contents where a bit insufficient.
Well here we have it's Great War equivalent and it's
glorious
. The number and selection of weapons is more than just sufficient - it's, especially in selection, absolutely stunning and includes some rather obscure guns and a number of variations of well known guns not commonly encountered.
Suffice to say it's also gloriously sculpted. It's a recent ICM release, they all are
.
A little mention goes to the source of my example, since it is included with the trench raid MB figure set and thus I have no box and description, however I do have several encyclopedic reference works and thus won't have to rely on the internet for classification and identification, especially since the box includes a list of the contents which is , while not
wrong
, certainly a bit superficial.
Of course it's completely sufficient if you're not such a
pedantic nutcase
like me
.
So here we go, as usual with some further comments when I feel them appropriate:
2x MG08/15 machine gun - four-part little kit of this insane "light" machine gun. Just imagine a maxim gun as a "light" MG and you have the insane contraption. It was however so extremely common starting in '15 that it's designator "08/15" has become a common German phrase for "utterly usual" without most people actually remembering where it comes from.
2x Tankgewehr M1918 anti tank gun - the first (as in "of all of them ever") AT rifle, comes in three parts and includes the second of two bi-pod designs employed. It's a huge single shot 98 system gun firing the 13.2mm (roughly .52 cal) TuF ("
Tank und Flieger
" (anti-) tank and aircraft) round.
(Very few of them left today, but here's a video by Mr. McCollum of one actually used!)
4x Mauser 98a carbine - It's actually the 98AZ carbine - essentially less of a carbine and more of a short rifle version of the Mauser 1898, not to be confused with the famous 1935 K98k, originally intended for logistics troops and cavalry it became a favourite of the elite storm troopers. The "AZ" is the version which has both a different bayonet holder and a stacking rod but is otherwise a regular 98a carbine. Like
all
bolt action rifles in this set it comes with a separate bolt handle for a higher detail level.
4x Mauser 1898 rifle - the regular iconic Mauser 98 in the common Great War configuration of full scale barrel and the less than useful tangent sight with a minimum sighting range of 400meters, which was later modified for a minimum of 100m by simply cutting down the front sight post.
4x Mauser 98 rifle with M98/05 bayonet - the aforementioned rifle with the common "butcher blade" M98/05 bayonet mounted. It's not the engineer version of this misinterpreted bayonet with the saw teeth on the back, but it could be one of those with the saw teeth ground down because Entente trooper where likely to execute someone found bearing this version for alleged war crime use of the saw blade...
4x M98 bayonet - the precursor to the M98/05 bayonet. It's a long sword bayonet type that was later ground down to a more manoeuvrable length for trench warfare and similarly could be clipped down in the plastic version.
2x M98/05 bayonet - the aforementioned butcher blade bayonet
1x M98/05 bayonet with scabbard - the same as above in it's scabbard
2x M1914 bayonet - actually a SG 84/98 knife bayonet,more or less with little modificastion this became the common bayonet of the 1935 K98k, therefore my seem strangely familiar at this scale.
2x M1914 bayonet with scabbard - guess what...
8x 8mm Mauser rifle pouches- common 20th century triplet 30-round-on-5-round-clip pouches - a little side note here: "8mm Mauser" is actually the 7.92x57mm S round, commonly called "8mm Mauser" for simplicity.
2x Bergmann MP 18/1 sub machine gun - iconic SMG, really the first one deployed in the field of the type, utilizing the 32-round 9mm Parabellum magazine developed for the P08 carbine variation.
2x Luger P08 pistol (artillery model) with butt holster - this somewhat well known version of the Parabellum pistol had a 200mm barrel, shoulder stock, 32-round drum magazine (included as an option) and a 8-position rear tangent sight, optimistically sighted for 800m. It's what today would be called a PDW for artillery personnel and other technical troops to whom even a carbine would be unjustifiably cumbersome. It was also a favourite, just as another pistol carbine in this set, of the storm troopers. However contrary to some perceptions occasionally arising it's not and has never been fully automatic.
2x Luger P08 pistol (artillery model) butt holster - the "Ari-Luger" ("arty-Luger") as packed and collapsed with it's holster
2x Luger P08 pistol (artillery model) - Ari-Luger without holster and with inserted 8-round box-magazine
2x Luger P08 pistol - the common P08 Parabellum pistol in it's common army 9mm (the navy had adopted the 7.62mm version in 1904) version
2x Luger P08 pistol holster - common P08 in holster (technically it's a "Pistolenkoffer"- "pistol case" because it's hard-shell boiled leather item)
2x Mauser C96 pistol - Iconic very early semi-auto pistol, more commonly associated with the final phase of imperialism as well as Winston Churchill and also Soviet commissars of the Russian Civil War era and the Chinese Civil War. This is the 7.63mm 10-round stripper clip fed version, however by simply carving or painting a "9" on the "broom handle" grip would make it a "red 9" ordered by the imperial army in 1916 in 9mm Parabellum to compensate the slow production if the P08. Also used with slight modifications by Han Solo
.
2x Mauser C96 pistol with butt holster - Pistol carbine version of the C96 with it's holster-carry-case. The same "red 9" option can be applied here to make it a 1916 version. Also not fully automatic - it's commonly thought to have been because Astra of Spain built a full-auto, detachable magazine version in 1927 for the Chinese Civil War(s). Mauser also made a full-auto version in 1932 as the M1932/M712 "Schnellfeuer" that was also widely used in the far east as well as issued as M712 to the Waffen SS and some Heer units.
2x Mauser C96 pistol butt holster - the aforementioned pistol in it's wooden holster.
8x Stielhandgranate grenade - Great War version of the iconic German stick-grenade in it's initial M1915/M1916/M1917 (externally interchangeable at this scale) - might look weirdly massive and inelegant for those of us who, like me, are used to the sleek M24 and M43 grenades of World War II fame.
4x Kugelhandgranate grenade - "ball hand grenade" the hand grenade initially available to the German armies (the German states still nominally fielded their own armies... effectively just army corps fully integrated into the imperial army...) deployed initially only by the engineers to assault field fortifications. It was heavy (750gramms) and unwieldy and almost completely phase out by 1915.
4x Assault knife - actually a rather specific type of dagger shaped combat knife commonly called a "Grabendolch" ("trench dagger" - obviously the Central Powers version of the Entente trench knife). This specific version is a pattern by Böker of Solingen (the company is still around and actually still produces this very version) but produced as well by a whole lot of manufacturers for the field army. Starting in 1916 every company of infantry was issued 40 of these combat knifes.
4x Shovel - a regular full scale shovel in it's leather case
2x Pickaxe - common pattern pickaxe
2x Pickaxe in case - the aforementioned tool (and especially in
this
war close quarters weapon) in it's leather case
2x Spade - the regular army spade that endured until World War 2 (and beyond in the Eastern German Army) this item should be well known.
4x Spade in case with M98/05 bayonet - the common set up of the entrenching tool we know from the scone world war, only with a different bayonet: bayonet in sheath and frog affixed to the case of the spade, however those included in this set are senior NCO or officers version since they all feature the portépée (sword knot) on the bayonet.
4x spade in case with M98 bayonet - same as above except that it features the M98 sword bayonet,
2x Wire cutters - seldom more appropriate than in a set for the Great War...
2x Hatchet/small axe in case
4x Mess tin - like the canteen more or less a only slightly less streamlined version of the same item we are used to from the sequel
4x Canteen
2x Binoculars - regular field glasses, the same item as used in the sequel
2x Binoculars case
2xFlashlight - interestingly the same box shaped item as in the Second World War, didn't know it was so old...on the other hand, the common "stick" flash light has essentially been unchanged since it's introduction the 1890s...
8x M1916 steel helmet - the first of the iconic German "neo-sallet", this M1916 still has all the fixtures and is generally (and this is a general perception across this review) less streamlined and elegant than the M35 version one is used to.
4x Respirator canister and filter - in
this
war certainly
not
thrown into the logistics truck and replaced used as a case for additional rations
.
So what does this whole long list imply? Exactly!
This
set certainly earns a superlative recommendation without any reservation! It's essentially makes good on the promise the style and modelling skills displayed in the WW2 set just implied, only not held back by it's random selection of hardware.
2x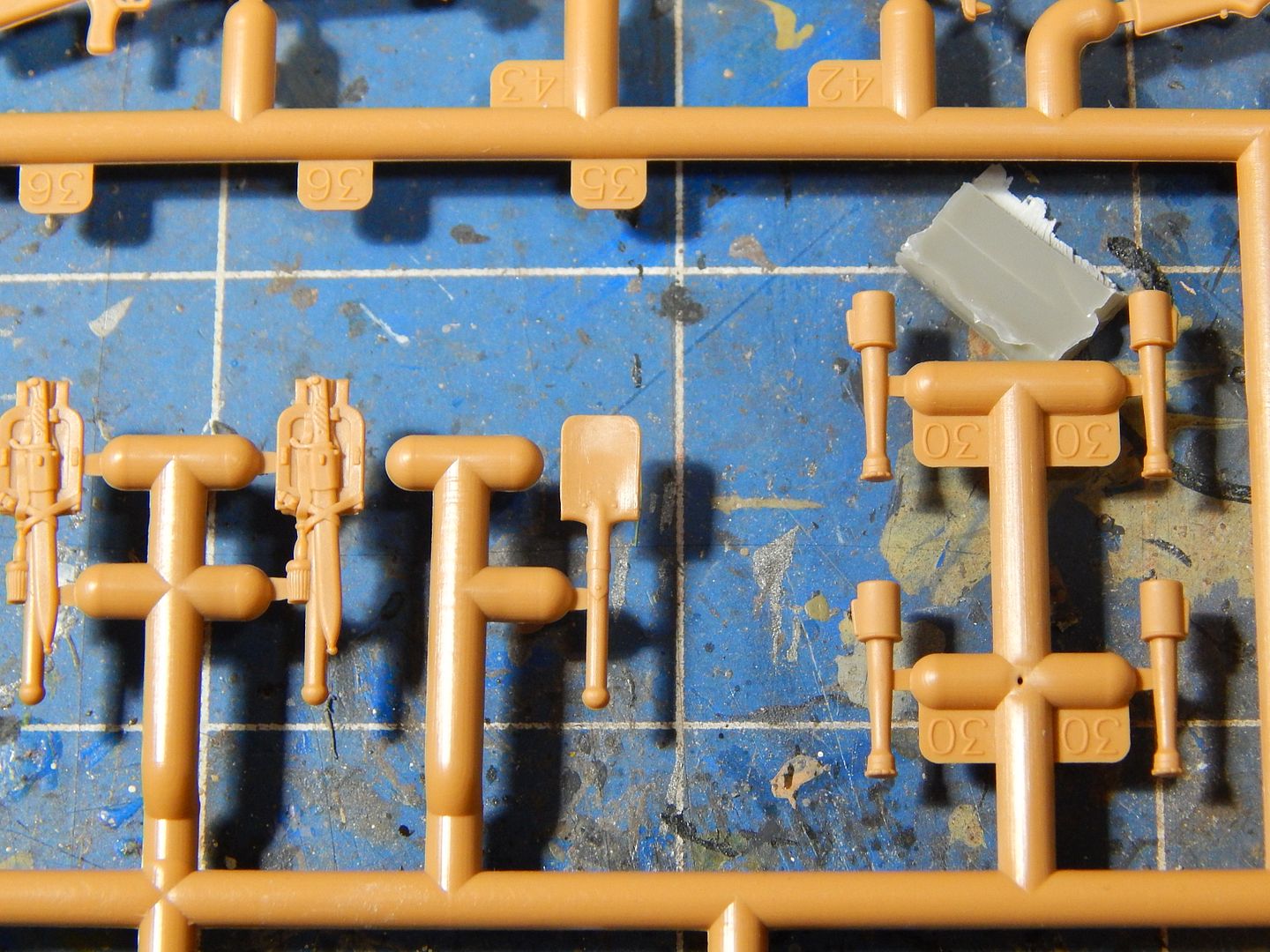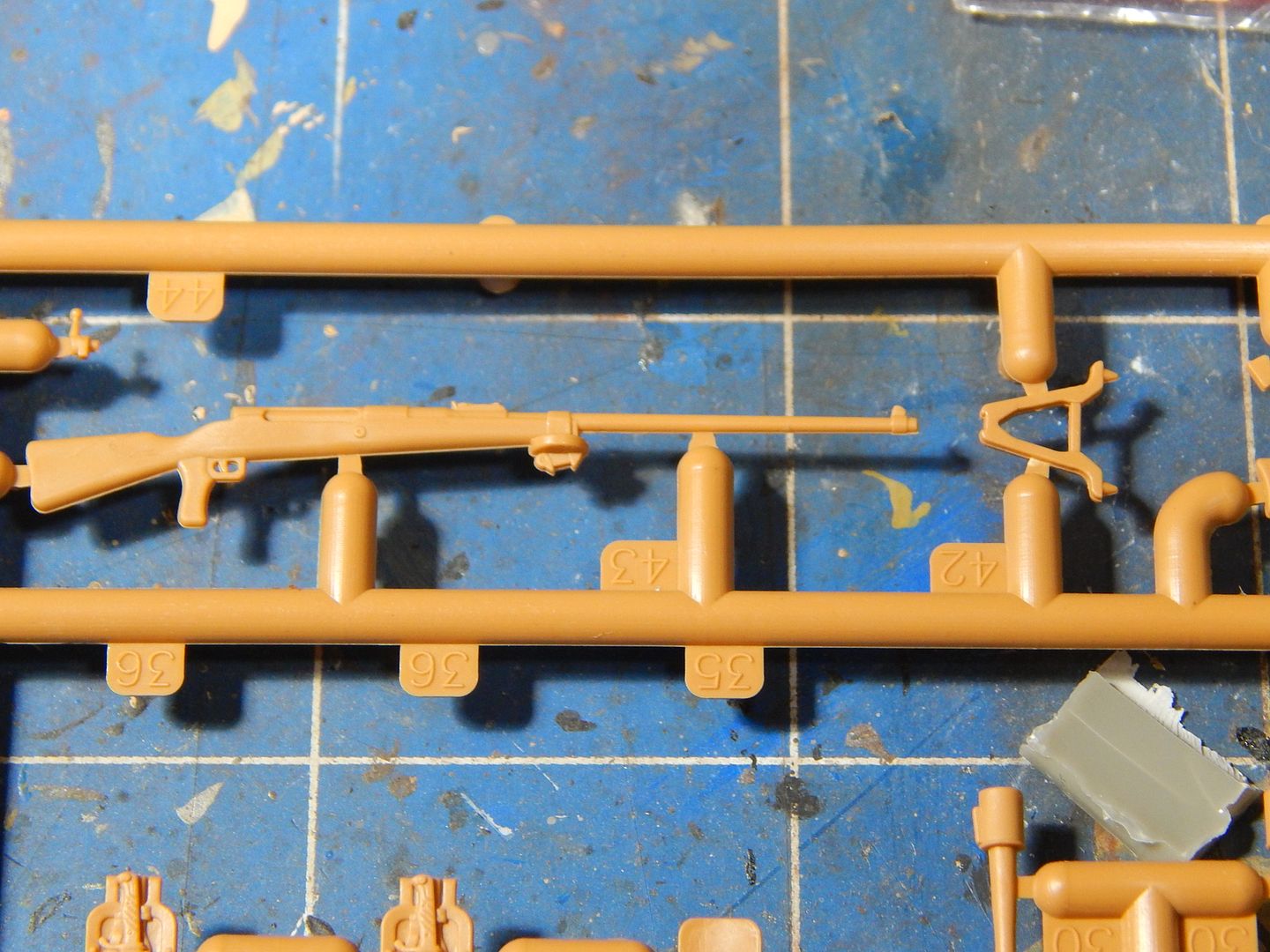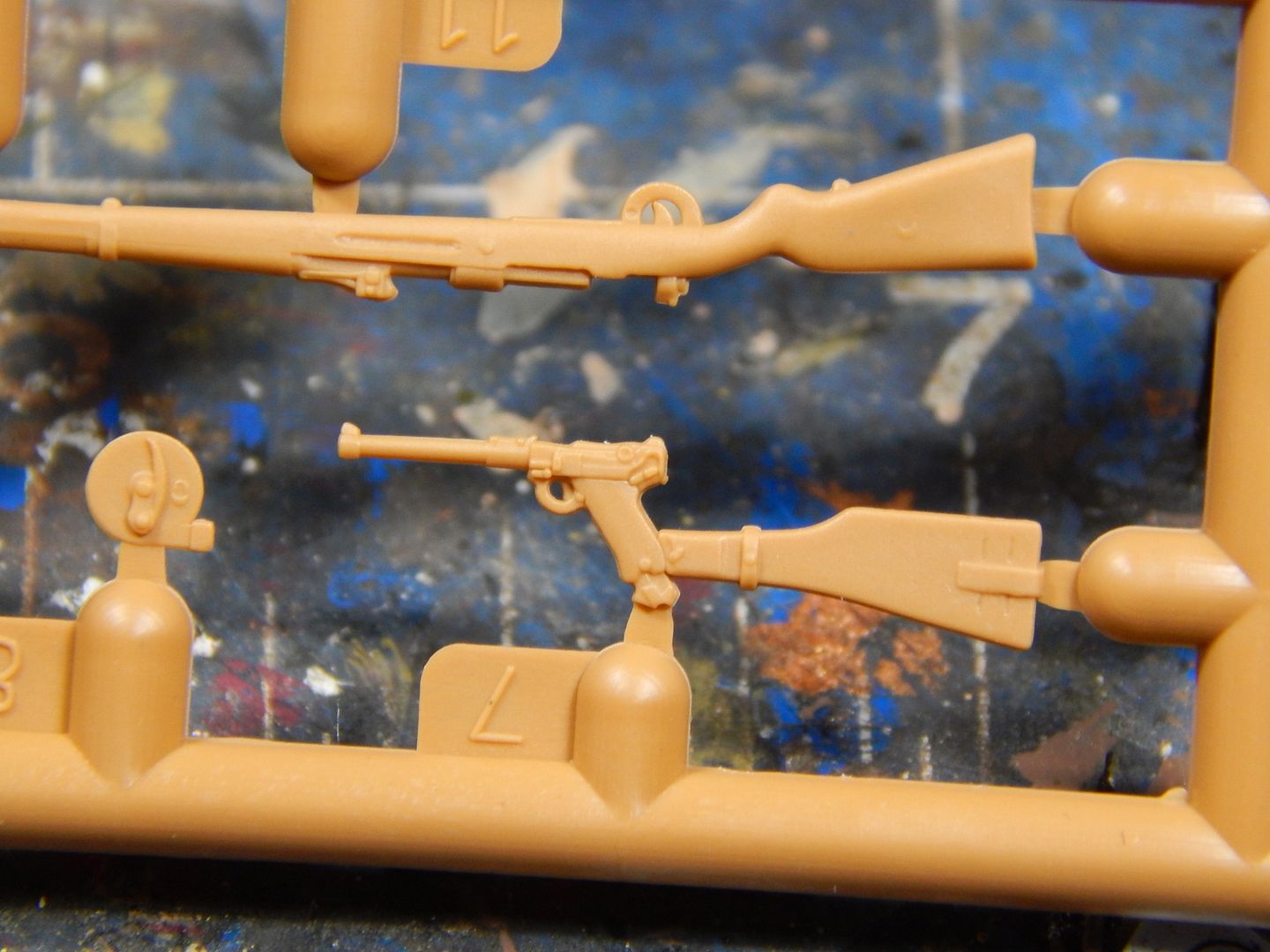 Best regards
Raoul G. Kunz

(Review of the British equivalent coming soon)